UPDATE:
Due to the expectation of the expiration of the PA Emergency Disaster Proclamation, starting Thursday, June 10, 2021, we will be serving patients inside our dispensaries until further notice. Please continue to order products through our online ordering system and adhere to your selected product pick up time. This will help us provide you with the personal service you deserve.
​When you arrive at the dispensary, please follow instructions from the security team on where to park and where to show your medical card to gain access into the building. Thank you!
---
Protecting Patients, Caregivers and Employees is Top Priority While Also Providing Necessary Medical Marijuana Medications to Patients with Serious Illnesses
Organic Remedies medical marijuana dispensaries has started curbside delivery service at its three dispensary locations following approval by the Pennsylvania Department of Health to ease requirements for dispensing medical marijuana. Curbside delivery started at the company's Enola location on Sat., Mar. 21 and was initiated at its York and Chambersburg dispensaries on Sun., Mar. 22.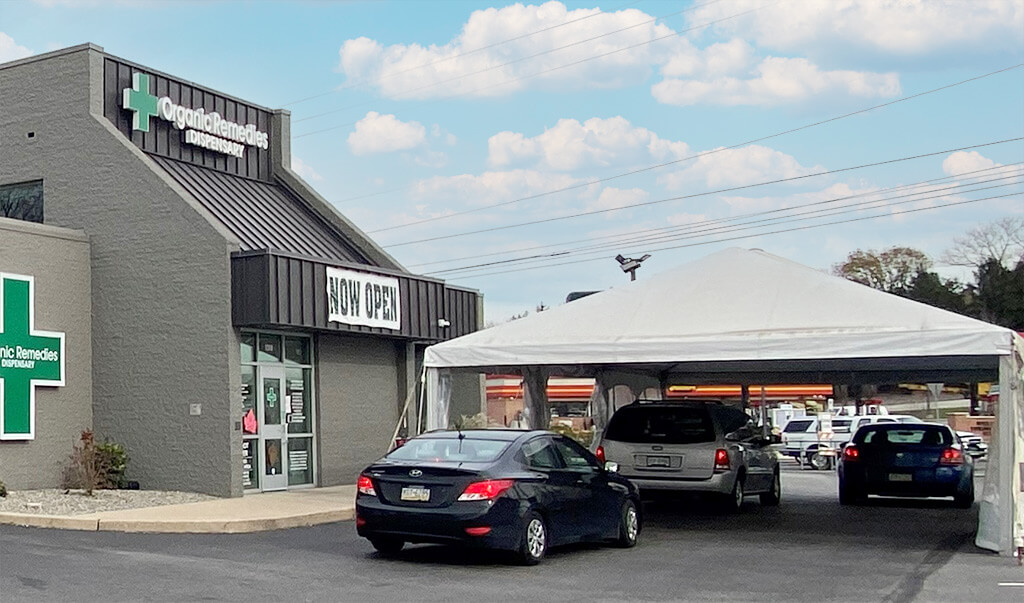 "As an essential healthcare provider, our highest priority is to protect the health and well-being of our patients, caregivers and employees. Our curbside delivery service will allow us to provide the crucial medications our patients need, while also increasing the level of social distancing as recommended by the Centers for Disease Control for both our patients and employees," said Organic Remedies President Eric Hauser.
Organic Remedies will be offering curbside delivery service until the CDC deems the risk of spreading disease is minimal. The dispensaries will continue to offer patient consultations with experienced pharmacists in the store locations for new patients. Follow-up pharmacist consultations will be scheduled by phone.
"We are grateful that the DOH has allowed a temporary suspension of the state requirements that mandate dispensing of medical marijuana only inside medical marijuana dispensaries. By converting to curbside delivery service instead of in-store sales, we greatly reduce exposure to potential disease spread," said Hauser.
Hauser added that patients or caregivers should reserve products on the company's website in advance of visiting the store. Reservations are now permitted for all categories of products, including dry leaf. Patients and caregivers can reserve a maximum of three items per product. Dry leaf orders are limited to a maximum of 30 grams, which includes a maximum of 14 grams per strain. For patients or caregivers who have no internet access, Organic Remedies will accept orders by phone.
Patient care consultants will meet patients and caregivers curbside to gather the required items, including the patient's state-approved medical marijuana card, a government-issued photo ID and the cash payment. After the patient or caregivers' credentials are validated, the patient care consultants will process the transaction and return with the product to the patient or caregivers' vehicle. Security at the dispensaries has been increased to maintain traffic control in the parking lots.
Organic Remedies continues to diligently clean and sanitize its facilities according to CDC guidelines. The list of increased measures to sanitize and protect patients, caregivers and employees is posted on the company's website and includes:
Thoroughly disinfecting all areas of the dispensaries, utilizing a natural, non-toxic formula shown to be 99% effective in virus eradication, through a fogging procedure.
Maintaining a sanitary environment, wiping counters, doors and surfaces in direct contact with individuals every hour during business hours with disinfectant spray.
Continuing to provide hand sanitizer gel for both employees and patients and requiring employees to use the hand sanitizer gel frequently while working.
Asking that employees, patients and caregivers forego the usual and customary handshake as a greeting to prevent the spread of germs.
Requiring employees to frequently wash hands for a period of more than 20 seconds with soap and water.
Requiring an employee who may be ill to remain at home and not report for work in the dispensary until a reasonable time period after the illness as defined by the CDC.
Asking that patients and caregivers who may be ill to remain at home until a reasonable time period after the illness and assign a caregiver if they require medication during that time.