Organic Remedies is supporting the sponsorship of wreaths at Indiantown Gap National Cemetery, in Annville, PA, where 45,000 military service members are laid to rest, at Philadelphia National Cemetery with 9,000 graves, and at the National Cemetery of the Alleghenies in western PA with 16,273 graves.
National Wreaths Across America Day will be held Saturday, December 16, 2023. Ceremonies across the country begin at 12:00 p.m. EST followed by the placement of wreaths.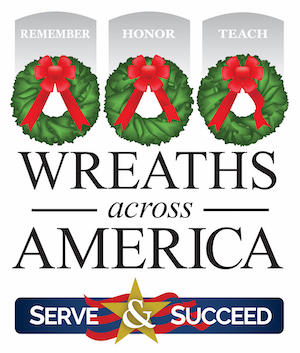 Wreaths Across America is an organization that raises funds to purchase wreaths to place on graves of veterans laid to rest in national and state military cemeteries. In 2022, 2.7 million veterans' wreaths were placed at 3,702 locations, including Arlington National Cemetery.
Please help us Remember every Fallen Veteran, Honor those who still serve, and their families, and Teach our youth, the value and price of Freedom, by sponsoring a $17 wreath.
Michael R.W. Davies • Navy • 1995 – 2020 • Michael Davies was petty officer in the navy who has discharged from the service in 2016. While his time with the service was short, he was very proud to be in the Navy, and the impact it made on his life and the lives of others around him has been unmatched. If you met Michael once, you remembered him for the rest of your life-some people just have that kind of magic. Please consider donating to Wreaths Across America to honor veterans like him and others.