Partnering with former Steelers linebacker and NFL Pro Bowler Ryan Shazier, Organic Remedies has introduced the product line to help patients improve their quality of life by managing pain, anxiety, and depression.
Shazier's miraculous journey after undergoing spinal stabilization surgery two days after being injured while making a tackle during the Dec. 4, 2017, game at the Cincinnati Bengals is well-known among Steelers fans, and indeed throughout the NFL community. What many may not know is that Shazier benefitted from the use of medical marijuana as he worked to regain his mobility following his injury. Shazier said his unique brand of medical marijuana products will help others succeed in achieving their wellness goals.
"I was looking for a safe, natural alternative to opioid pain medications during my rehabilitation and recovery. Medical marijuana provided me with a restorative healing that allowed me to manage the pain through a difficult time in my life. I am thrilled to be working with Organic Remedies to cultivate and produce affordable, premium medical marijuana strains that have been selected specifically to help patients live their best life," said Shazier.
The Steel City Greats Ryan Shazier brand is initially introducing four premium strains of dry leaf flower, including Shazier #50, Shalieve, Walking Miracle, and Speed available in 3.5g. Going forward, additional manufactured products will be added to the product line, including vape cartridges, topicals, and capsules.
"Organic Remedies is honored to partner with Ryan on launching this exciting brand to Pennsylvania patients. Together, we are working to help more patients with serious illnesses live a better quality of life and experience the restorative healing of medical marijuana. Ryan's story is one of triumph. He is a true champion in so many ways, and we are delighted to help our patients achieve their own victories throughout their personal wellness journey," said Organic Remedies President Eric Hauser.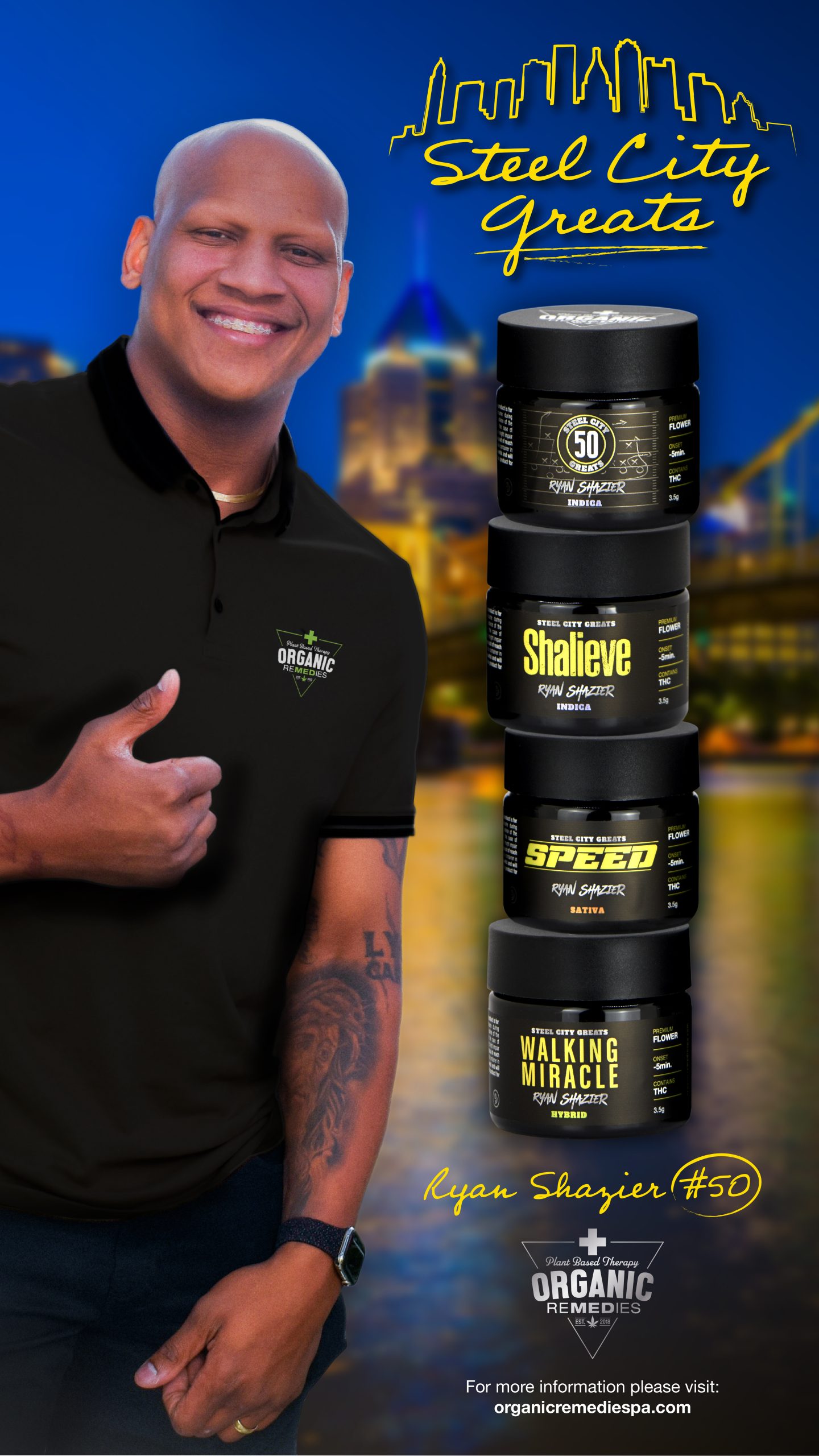 In 2020, Shazier founded the Ryan Shazier Fund for Spinal Rehabilitation to support others going through similar injuries. Shazier says a portion of the proceeds from the sale of the Shazier brand products will be contributed to the fund.
For more information about the Ryan Shazier brand products, visit www.steelcitygreats.com.
About the Ryan Shazier Fund for Spinal Rehabilitation
The mission of the Ryan Shazier Fund for Spinal Rehabilitation is to give those with spinal cord injuries and their caregivers the support, resources, and funding they need to live independent and meaningful lives. To learn more, visit http://www.ryanshazierfund.org.